My hair is the first thing you notice about me. I have a hairstylist who understands what I want. No doubt about that!
I found Libby through one of her customers. I was at a Sunday market and I noticed a young woman with fine, straight, short hair. Her haircut caught my attention. I have fine hair and I wear my hair short. She had a great haircut and I needed to know who her stylist was. She was kind enough to share her hairstylist's details with me. That was 20 years ago!
Hair is your crowning glory.
Who is in charge of styling your hair?
Are they giving you the best look for your type of hair? If not...
Look around and really look at other people's hairstyles. Ask someone who their hairstylist is...hopefully they will share their hairdresser's information with you. It's not a guarantee though!
A few points to consider...
Choose someone whose hair type is like yours e.g curly, thick, thin....this matters. You want your new hairdresser to be able to work well with your hair too and less chance of a bad hairstyle experience!
Look through hair magazines and be realistic about the style your hair can cope with
Take into account your hair type. What it will do and what it won't do
Decide whether you will use hair products. My hairstyle looks pretty average without product. My hair has texture because Libby has cut it to create texture. Without product I would have no hairstyle! My hair takes approximately 5 minutes, from wet to dry, to style with product added. I don't like to spend any longer than 5 minutes fussing in the morning.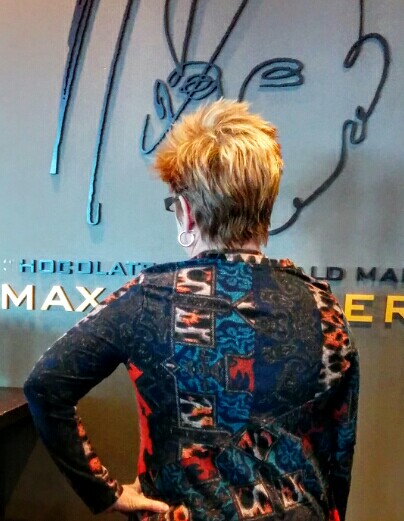 2016 is a New Year. Your hair is on top of your head and the first thing people notice. What can you do with your hair to enhance your appearance? Sometimes it only takes a few changes to create the look you want. Cut out the pictures of great haircuts that you see in magazines. Do your homework before going to the hairdresser. Be reasonable with your expectations.
Let me know how you go with this challenge. I would love to hear about your new adventures with your hair style!
Subscribe to my Blog and YouTube and follow me on Instagram to be part of my day to day adventures with fabric, patterns and thoughts on life!